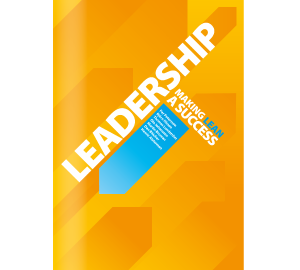 Leadership – Making Lean a Success explains in a straightforward way what it takes to lead an organization towards Lean. The book clarifies how leaders can take on the role as being the critical link between understanding Lean and establishing a Lean culture that continuously improves results.
In addition to a brief description of Lean, the book focuses on the various aspects of leadership ranging from organizational conditions to the leader´s personal image. Further, the book contains a small selection of useful leadership methods that contributes in giving leaders structure and support in their effort to develop their employees as well as their own leadership.
The book is intended for leaders at all organizational levels as well as board members and people with owner interests. It is concrete in describing how leadership should be adapted in order to make Lean a success. This book is a sequel to the acclaimed book Lean – Turn Deviations into Success which provides deeper understanding of what Lean is about and what effects it can bring.
Excerpts from the book
The book comprises a total of 251 pages and you have a sample here. You have the opportunity to get a brief glimpse of how Leadership is conveyed in Lean – Turn Deviations into Success
Reviews
"The authors have mastered TPS at a level comparable to Toyota itself and their experience is both broad and deep. They have a unique ability to ensure efficient and successful change in all kinds of contexts. In this book, they have distilled the essence of what lean leadership is about. It is tangible, easy to grasp, it hits the mark and is wise. This is an excellent book, the content of which all leaders should integrate and master!"
Niklas Modig
Researcher and author of the book "This Is Lean", Stockholm School of Economics, Sweden
 "To reach the best effect of implementing Lean in one's operation, a common way of thinking must be combined with the best known methods and, above all, making sure that the personnel is in the driver's seat in the improvement work. The greatest challenge is then to develop the leadership to avoid the managers at different levels being a skid in the process of change. It's clear that the authors have own experience of driving change inspired by Lean thinking. They have been successful in balancing between methods and leadership in an excellent way. Read the book!"Thomas Karlsson, Senior Vice President Scania CV AB
Production and Logistics, Chassis and Cab Production, Sweden
"I thought it was impossible to surpass the predecessor Lean – Turn Deviations into Success!… However, the authors have succeeded over all expectations! The preface in all its simplicity is among the best that has ever been written and it instantly captures the red thread for the most fantastic improvement tool ever created –leadership! Read, learn about and enjoy its significance and its absolute necessity for a successful and sustainable Lean transformation and HOW to do it!"
Göran Örnung
MD, PhD, Head of unit of Emergency Medicine, Capio S:t Gorans hospital, Sweden
"Many companies strive to implement Lean, some succeed in a very good way whereas others lose heart after a while and the improvement work comes to a halt. Then, what is the difference between them? What do the successful companies do? My experience from Lean transformations within industry is that the leaders' engagement and drive in the Lean work, at all organizational levels, is critical to success. The leader is the trainer and to be a trainer knowledge about Lean is required. The book Leadership – Making Lean a Success is excellent reading for leaders who want to gain this knowledge. In addition, the book is easy to read and it is therefore perfectly suited to be used as literature in book clubs for leaders at all organizational levels."
Bengt Lundström
Vice President Complete Bus Europe, Volvo Buses
 "This book, as well as the first book from Part Development, is one of the most pedagogic books about Lean that I have read. With its easily comprehensible style it suits those who are well informed about Lean as well as those who are less initiated and want to learn more about what good leadership entails. The simple examples and the aptly comparisons between management by results and management by means make it easy to recognize oneself and it triggers thoughts of how to improve the operations as well as the leadership. The book is suitable for leaders who want to improve as well as employees who want to understand what to expect from leaders in a mature Lean environment. I will spread the book within the company in the same way as I did with the first book and it will be a part of our work on continuous improvements focused on the leadership."
Peter Alvarsson
Head of Operational Excellence & Lean, Sweden Operations AstraZeneca, Sweden

Print, PDF or E-mail